Dr. Hansal Bhachech is a renowned psychiatrist and author of western India. He is M.D. in psychiatry with university first position. He is a member of State Mental Health Authority, Gujarat. He is an adviser to many pharmaceutical companies.
As a practicing psychiatrist, an author and an orator, he holds distinguished presence in medical profession and society. For more than twenty five years, he has been consistently writing a columns in leading Gujarati daily 'Gujarat Samachar'. His column has created a distinct impression in the mindsets of readers across the world.His writings reflect broad global view. His columns are also published in an international edition of Gujarat samachar. He is a guest writer in many other News papers and magazines.Books authored by him have been widely popular. He has written many books on man-woman relationships, Depression, Schizophrenia, Drug Addiction etc. in Gujarati, English and Hindi languages.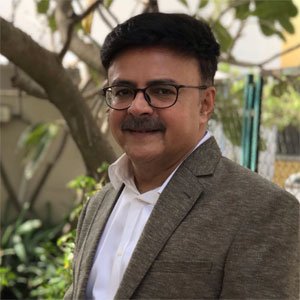 Dr. Hansal Bhachech's contribution to social and health awareness is remarkable. He has been delivering simple and scientific observations on psychological disorders and related issues with amazing consistency through a range of newspapers, magazines, radio and television channels as well as internet.Gujarat Nashabandhi Mandal has given him "Jugatram Dave gold medal" for his services in the field of drug addiction. He was given 'Ravishankar maharaj vyashan nishedh puraskar' (Ravishankar maharaj Gold Medal) for his book on De-addiction. He is awarded R.K.Vasavda Gold Medal for his oration on 'Change your mind change your life'. His serial on drug addiction "radio date" was broadcasted from all India radio and his serial on Alcohol dependence was telecasted by Ahmedabad doordarshan.
He is wonderful orator. His workshops are very popular in corporates and are rated worth attending. As a speaker, he travels across the globe. His self-hypnosis audio tracks and auto-suggestion films are very popular and have transformed many.
Currently, he is practicing as a psychiatrist is Western India, city of Ahmadabad. He is The Chief of the Department of Psychiatry, HCG Hospitals, Ahmedabad.
Dear Dr. Bhachech, my love life was terribly messed up and I was feeling sucked in the relationship. Thank you so much for your very practical and timely advice. We are together again with new understanding and deeper emotional bond. Thank you once again and God bless you.